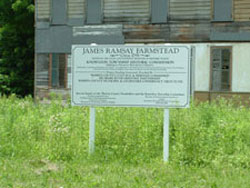 We need your help to ensure the protection of the best of New Jersey before it is too late. Please send a letter to your Legislators asking them to support the recently introduced resolution to renew the Garden State Preservation Trust by visiting http://ga1.org/campaign/GSPTresolution: <http://ga1.org/campaign/GSPTresolution:> <">">http://ga1.org/campaign/GSPTresolution> <http://ga1.org/campaign/GSPTresolution> <http://ga1.org/campaign/GSPTresolution%3e> . The Garden State Preservation Trust, New Jersey's funding mechanism for historic preservation, open space and farmland, will run out of money early this year. To avoid a gap in funding, the Trust must be replenished by the end of the year through voter approval on the ballot this November. To achieve a place on the ballot, the Legislature must pass a plan early this year. At our Lobby Day in December 2006, we called on the State Legislature and the Governor to champion a public question for the 2007 ballot that will renew and strengthen the Trust in the amount of $100 million a year for capital projects (including $16 million a year for the NJ Historic Trust grant programs), $225 million a year for open space acquisition, and $56 million a year for operations with equity ensured for all communities. Assemblyman McKeon and Senators Lance and Smith responded by introducing ACR 229/SCR 131, which would replenish the Trust by dedicating $150 million of existing sales tax revenue to improving and acquiring historic sites and open spaces across the state. With the addition of $56 million a year to operate, maintain and steward newly acquired and existing open spaces, parks and historic sites, this is the best vehicle available to fully replenish the fund. It is imperative this resolution is passed by March, so that protection of our critical historic sites, natural areas and farmland continues uninterrupted. At the most recent Lobby Day on January 29th, we asked Legislators to support this resolution to replenish the Trust with the recommended change. Join us in our effort to gather support for the renewal and strengthening of this critical program by sending a letter to your Legislators (visit http://ga1.org/campaign/GSPTresolution).: <">">http://ga1.org/campaign/GSPTresolution).> <http://ga1.org/campaign/GSPTresolution).> <http://ga1.org/campaign/GSPTresolution).%3e> Preservation New Jersey 30 S. Warren Street Trenton, NJ 08608 609.392.6409 fax 609.392-6418 www.preservationnj.org <http://www.preservationnj.org/>
This article was re-published with the expressed permission of " Preservation New Jersey"
Fall 2006 Volume XXV Issue 3
Preservation NJ's Heritage Partnership
Ramsaysburg Homestead and Tavern, Knowlton Township, Warren County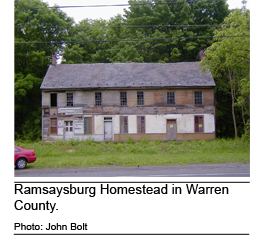 Creativity, flexibility, and partnerships are key to creating positive outcomes for all resources involved in complex land acquisition deals. Members of the Heritage Partnership have encouraged such collaborations and local alliances to address problems involving the preservation of specific natural and cultural resources. The successful outcome for the Ramsaysburg homestead and tavern in Knowlton Twp., Warren County is an inspiring example of the zeal and commitment of the community and local advocates.

The Ramsaysburg Homestead consists of a house, tavern, and numerous outbuildings on an approximately 12-acre site along the Delaware River. Brothers James and Adam Ramsay acquired this property, which already included a tavern, in 1794. They continued to operate the tavern and established a store, around which a hamlet grew. The little community prospered modestly, catering to both river and road traffic, until construction of the Delaware, Lackawanna & Western Railroad in the 1850s shifted commercial activity to the new town of Delaware, one mile to the north. Unoccupied for many years, the house erected by the Ramsays in 1794 as a combination residence and store and its later barns and outbuildings were threatened with demolition by neglect. Despite deterioration, these buildings retain much of their early character. According to historic preservation consultant and Partnership member Dennis Bertland, the frame two-story house, in particular, remains a notable example of the region's early domestic architecture, exhibiting such features as beaded clapboards, mud/straw wall nogging and Georgian style woodwork.In 2000, the DEP's Green Acres made it known at a meeting with the Knowlton Twp Historic Commission (KTHC) of a proposed land acquisition, including Ramsaysburg for the Beaver Brook Wildlife Management Area in Warren County. KTHC expressed its plan to preserve the structures and lease the property from the DEP.

The KTHC and other community members proactively advocated to lease and reuse the property, hoping to help realize its potential as an economically viable asset that was a community landmark. The Ramsaysburg Homestead was listed on the New Jersey and National Register of Historic Places in 2001, with a $5000 Special Project Grant from Warren County Cultural and Heritage Commission. Responding to the urgency of the threat and to keep the momentum, a nomination led to its being listed as one of Preservation New Jersey's 10 Most Endangered Historic Sites in New Jersey in 2002.

Meanwhile Green Acres having closed on the purchase of the site turned its management to the Division of Fish &Wildlife, for whom direct financial investment in the property was not feasible. KTHC began its work to lease the property, using the lease model developed by the Hardwick Twp.
Historical Society for the Vass House (another success story. See article in Winter 2003 issue of Preservation Perspective).

A $5,000 Grant from the Delaware River Greenway Partnership helped the KTHC perform emergency stabilization to the structures, which were rapidly succumbing to neglect (a temporary use permit was secured by the township from the state enabling this work to be done). Finally, after almost three years of negotiations the State House Commission signed off on the lease, and the KTHC was able to commence its work in June 2006.

A historic structures report funded in part with a $46,313 New Jersey Historic Trust grant is now ongoing. Stabilization work, funded by a $197,608 grant from the Warren County Municipal and Charitable Conservancy Trust Fund, is in the design phase undertaken by John Bolt Architects and construction is expected to start this fall. The recent signing of a 20-year lease between Knowlton Township and the State of New Jersey Division of Fish and Wildlife was a major step forward, according to Hal Bromm, Chair of KTHC. "It has taken us years to get the lease with the state completed and signed while the structures continued to deteriorate," Bromm said. "It's urgent to now move forward with the critical work of stabilizing and restoring the valuable structures at Ramsaysburg. To reach this stage would not have been possible without the support of Senator Leonard Lance, the help of Rene Mathez, our Township Committee, and the hard work and commitment of all the members of the Knowlton Township Historic Commission."

The impending loss of a landmark was effectively translated into one of opportunity and the KTHC aims to open the site to the public, possibly an arts and cultural center.

The Partnership, thanks in part to a generous multi-year grant from the Geraldine R. Dodge Foundation, continues to advocate for finding solutions for fragile resources on preserved public land. Continued success will ultimately require finding new and innovative ways to get more groups to acknowledge the challenges facing historic and cultural resources on public land and working collaboratively to develop solutions. For more information about the Heritage Partnership, please visit www.preservationnj.org